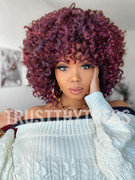 It was never solely about hair, but rather expression. To be honest, it had much more to do with protection.
Crochet wigs have become an innovative way for naturalistas and relaxed damsels alike, to share in the joys of protective styling, but without the long term commitment. Such a style allows for the utmost versatility, which can often be achieved in just a fraction of the time that it would take for the standard crochet braid install.
_____
My vision for this collection meant integrating texture, brilliance, color and volume, within each distinct style. I wanted this collection to reflect who I am, as a woman undergoing evolution. While I am no stranger to crochet styles, whether we're talking crochet braids or crochet wigs, I've never curated anything quite like this. In addition, I drew inspiration from my supporters, who consistently provide such incredible feedback.
As with ANYTHING that I do, I try to incorporate things of which I deem extremely relevant. The names within this collection speak volumes. Some are tied to prominent figures within the music industry, while others are inspired by groups of activists who sought change. A few of the names even encompass facets of the romance languages, which is entirely intentional. It's all-encompassing, on purpose.
But alas, this is how I say thank you to any and everyone who believed in me and helped me to arrive at such a creative space. Stay tuned.
TP.